Counter Terror Expo 2012 Overview
Thank you to everyone who kindly visited our stand at Counter Terror Expo 2012 at Kensington Olympia! It was the first time we had attended the show and our new SecurePlus+ range attracted a lot of interest.
The SecurePlus+ range, featured at the expo, offers innovative ways to incorporate PAS68 technology into street furniture to create products that integrate well with existing environments whilst providing protection from hostile vehicular attack. We showcased the Hague Steel SecurePlus+ Bollard, the St Brides Cast Aluminium SecurePlus+ Bollard, and the Epping Timber SecurePlus+ Bollard, in addition to showcasing projects we have completed at the US Embassy London, Cardiff City Centre and St Pancras Hotel London.
One of our expert designers Luke Tearall also delivered a workshop offering advice for integrating PAS 68 security in sensitive environments.
If you have specific projects that require SecurePlus+ street furniture then our in-house design team will work with you to tailor products to your specific location requirements and ensure that they are in keeping with the aesthetics of the scheme.
If you have any further questions about the products on the stand, would like a copy of the presentation, or if you would like to discuss specific projects that require SecurePlus+ products then please contact us at design@furnitubes.com.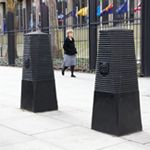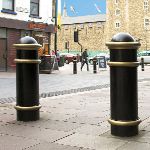 Secure Plus Bollards have been discontinued. View our range of bollards here.